Welcome back to Expat News by Expat Rebel. In this issue: Happy New Year From México plus Top 10 Videos and Articles From The Year. – Expat Rebel Chris 🧜🏻‍♂️
I took some time off and didn't send a newsletter last week so I haven't had a chance to tell you about my just published article about tipping during the holidays in Mexico.
Happy New Year From México
Happy New Year from Expat Rebel Chris & Nan on the Flamingo coast in Mexico! All photos were taken by us.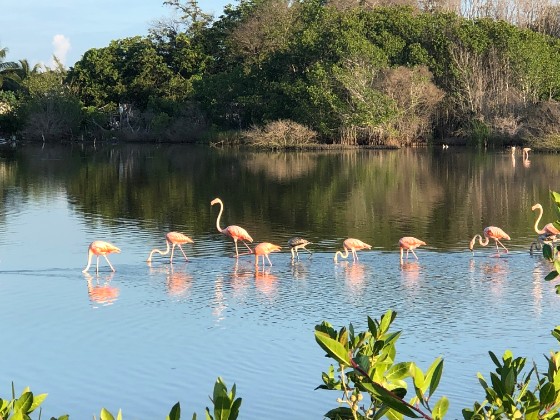 We live between the Gulf of Mexico and lagoons where all Flamingos are born!
I've taken some time off with family. Lots of Facetime calls with family back in the States as well.
My favorite thing about winter is watching clips of it on YouTube and Facetime calls :-)
2022 was a great year for me and my wife.
We have been living here in the Yucatán Peninsula now for 6 years and love it more than ever. Feeling more settled staying in one spot, we have been able to decorate and garden the way we like. Renting for 4.5 years was fun, yet having our place has been the key to my healing from my seizure.
We have really enjoyed learning to garden in the tropics. It is fun because everything grows so fast. Being on the ocean does cause some challenging microclimates, so we are getting to know the plants and their best spot.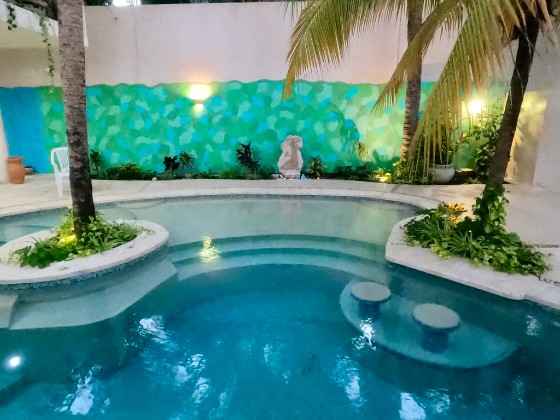 This was all sand 1.5 years ago. Now the garden Pool area is thriving
We love living an hour outside of Merida, a beautiful big city of 2 million with great restaurants and everything we need. In fact, it has been voted the 1st or 2nd safest City in all the Americas for years now (#1 or 2 we change with is Quebec, Canada as safest).
It is an unusual aspect of living in Mexico hardly anyone knows about. Safety, friendly, warm, helpful and kind is how we experience the people here. We have a lot of peace and quiet and can swim in the ocean most days unless we have a storm like the one in December for 3 days.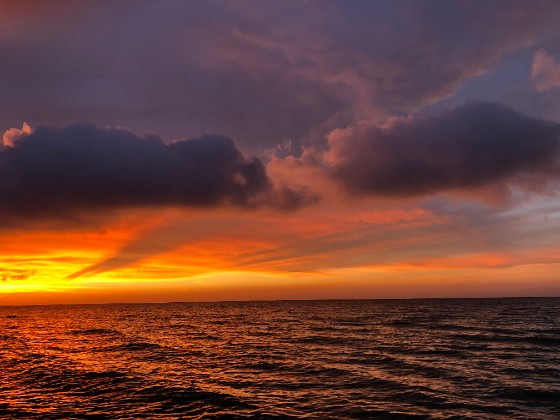 Sunsets in front of our home are beautiful in the summers
We also love that we are surrounded by ancient Mayan ruins and pyramids which we visit regularly. We also have so much natural beauty from pink salt lagoons filled with flamingos and "Cenote's" ("Dzenote" in Ancient Maya = "Sacred well") underground caves with pure water you can swim in – wonderful.
This incredible ancient Mayan site (only 1 hour from our house!) Dzibilchaltun, lets you in at 5 am on the equinox, and you can see the sun rise through the temple door. Stunning and well worth the many mosquito's pre-dawn. The stars are stunning, and Orion's Belt was above the temple before the sun rose.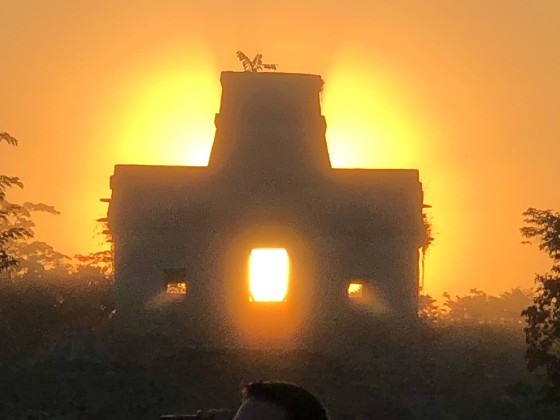 The Solar Temple Equinox experience at Dzibilchaltun , a local ancient Maya site, is stunning
We love to be outside, and there's so much nature here, we feel very healthy. We even have a couple of resident iguanas at our house. We went to Maya ruins and pyramids: Uxmal, Mayapan, Dizibilchaltum for the Equinox.
Enjoyed the big city of Mérida on many chiropractor appointments and shopping. Here ares some of my favorite markets of Mérida.
Bought a hand made panama hat in Becal a hat making town.
Experienced a really bad red tide. Took two months for the ocean to recover.
We visited Campeche for the third time. I wrote an article with photos about how it's an upcoming expat friendly city. And here are some videos from my second trip there.
We enjoyed our annual visit (3rd) for Nan's birthday to the nearby UNESCO World Heritage Site of Campeche. An old walled city on the gulf, once a place of many pirate attacks. We love it because it is small, walkable, charming, intact and beautiful. It has amazing local artisans, lovely restaurants and coffee/cacao cafés and an incredible 'malecon'—boardwalk along the ocean.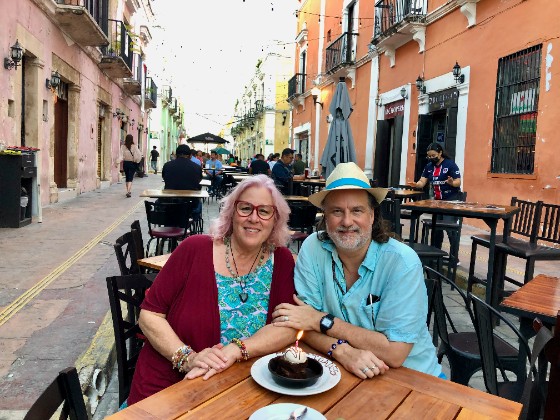 Celebrating Nan's birthday in Campeche Mexico
One huge highlight of 2022 for us was to host and live-stream 2 Mayan Aztec Ceremonies from our house. Our dear Aztec friend Cristian and his Mayan partner Vianney lead amazing ancestral ceremonies with music, dance and cultural lessons.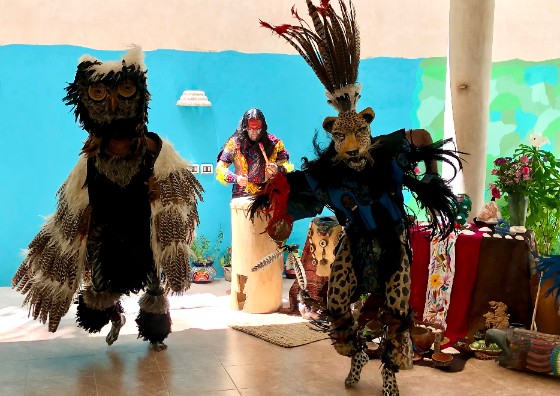 Cristian and two of his dancers as Owl and Jaguar
Our home renovation was completed two days before Christmas. Kitchen was finally finished. I'm working on the video. Nice to have no other projects, just regular maintenance which is a lot with a beach home.
And then our beach eroded to my fence and we got our contractor to put in 500 sand bags. We are off to a meeting with neighbors about installed big sand tubes in front of all our houses to stop the erosion. Videos forthcoming.
Wishing you a 2023 filled with abundant blessings and rich in joy, love and delightful experiences.
The Happiest New Year ever from Mexico. Check out the top 10 lists below.
Chris & Nan, and Carlos the iguana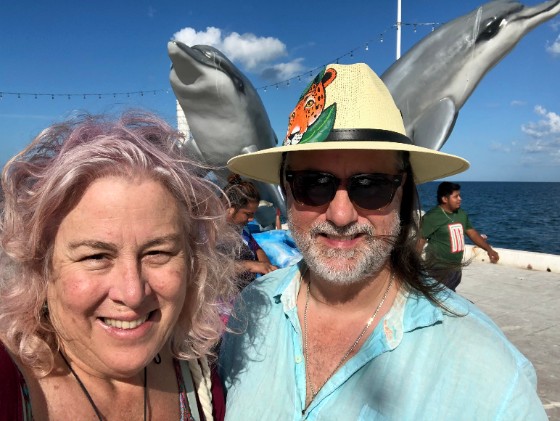 Most Popular Videos published in 2022
Most popular articles in 2022 were:
Latest posts by Expat Rebel
(see all)